Adult Faith Exploration Programs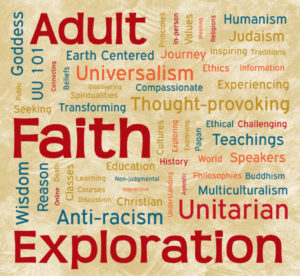 Currently we are holding classes in person and on Zoom. 
Most of our adult classes are open to the public. The teachers are members of the congregation and invited speakers who want to explore thought-provoking topics.
AFE is also looking for new committee members who can help us design and execute our emerging program.  If you are interested, please contact us at AdultFaithExp@uussd.org.
Our Classes
Deepen the understanding of our faith and its history
Explore other religious philosophies and their role in our spiritual growth
Strengthen our connections with each other, other faiths, and the world
Provide opportunities to enrich our spiritual paths
Registering
The process for registering is usually described in information about the course.
Contact AdultFaithExp@uussd.org for more information.
Current and Upcoming Classes
Previous Classes
George Porter, a long-time Sussex County resident and past owner of our UUSD property, was at UUSD to regale us about our building, land, its history, and bounties. We will then took a walk around the property. Botanists have been visiting this and the Truitt property on the pond because of its botanic riches.
A UU Tuneup — New Class, March 8, 15, and 22 — in person; and March 9, 16, and 23 on Zoom
A new UU class, or, as our new name suggests, "A UU Tuneup" class is being offered in person on Wednesdays at noon on March 8, 15, and 22 at UUSD, and via Zoom on Thursdays March 9, 16, and 23 from 7 – 8:30 p.m. Rev. Heather, Kim King, and Betty Kirk will provide challenges and opportunities for aspiring, new, and seasoned UUs to explore their spiritual paths — past, present, and future.
January:
Writing Your Spiritual Journey, Rev. Heather, Jan. 14 and 21, 10am to noon, in-person.