Dec
10
Sun
The Only Object in Life: To Grow
Dec 10 @ 10:00 am – 11:00 am
December 10, 2023, 10:00 a.m.
"The Only Object in Life: To Grow"
Rev. Heather Rion Starr
Lifelong learning is a core part of our Unitarian Universalist faith. How do we reacquaint ourselves with meaning-making, all year 'round? How are you still learning and growing, no matter your age or stage in life?
UUSD is requiring that only vaccinated individuals (who are eligible to be vaccinated against COVID) attend in-person services.
Please stay home and enjoy our livestream if you have a fever, any other symptoms of illness, or if it's simply a better option for you.
Mask wearing is encouraged but not required.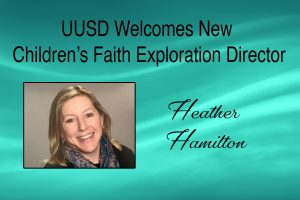 Welcome our New Children's Faith Exploration Director
Dr. Heather A. Hamilton will join our staff in January 2024, but will get to know UUSD in November and December with some weekday hours. She is an accomplished professional with a rich and diverse background in various industries, including education, music, and consulting.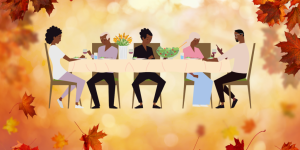 UU Service Committee — Guest at your Table Donations Begin
We are now beginning our annual UUSC Guest at Your Table campaign. Donations of $150 or more are 100% matched. Thanks to all who have already donated. Please note that GAYT supplies are available in the UUSC basket by the door to the Gathering Area. We will do our final wrap-up in early January.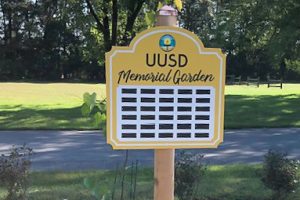 Our Memorial Garden
After months of planning, planting, watering, weeding, and working with the Board and Finance Committee, the UUSD Memorial Garden is ready to have names added to the new Memorial sign. The entire Garden will serve as a lovely reminder of those we have lost whom we want to remember in this beautiful setting.
Sharing Our Stories
Each of us at UUSD has a different story to tell about how we found a spiritual home here. A few of us are life-long UUs but most are not, having come from a variety of other religious backgrounds or from no particular place of faith. Whatever our journey, sharing the stories of the paths we took helps connect us to each other and to the shared journey we are now making.