Sustainable Gardening at UUSD
Gardening Philosophy
The UUSD Landscape Committee has adopted a policy of managing our property based on our 7th Principle, "…respect for the interdependent web of all existence." We incorporate native plants, use a rain barrel to supply some of our irrigation needs, use ground covers to keep weeds at a minimum, and avoid harmful pesticides and herbicides.
Collaboration with University of Delaware Landscape Architecture Students
UUSD's Landscape Committee and the University of Delaware Bachelor's of Landscape Architecture Program worked together in 2016 to begin planning sustainable garden areas for our church property. An area student intern in the Landscape Architecture program led a team of L/A students in developing the design of several different gardens on the UUSD property. Some of the student's great ideas are being incorporated as the UUSD Landscape team works to improve the property.
Native Wildflower Pollinator Garden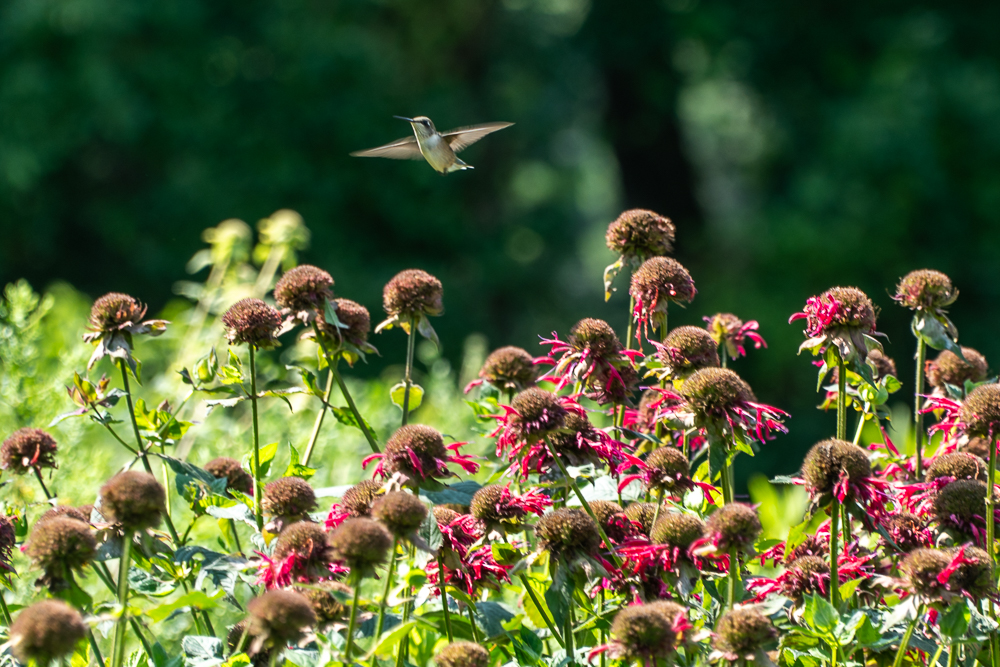 In 2022, the UUSD Landscape Committee volunteers created the Native Wildflower Pollinator Garden on the east lawn to attract bees, butterflies, and other pollinators. This project was undertaken to provide habitat for these endangered species, with the added benefits of creating shelter for other creatures with whom we share the land and adding beauty to our property.
In spring of 2022, the Landscape team used a solarization method to prepare the Garden, putting down sheets of six mil plastic to kill grass and weed seeds. When the volunteers removed the plastic in September, the area was cleared of any leftover vegetation and ready to be planted. Mini-grant funds from the First State Resource Conservation & Development Council, Inc., covered the cost of plastic sheeting, plants, and miscellaneous supplies. Fortunately, we also harvested many native wildflower plants from an area housing development that was abandoning their wildflower garden. Using mature plants meant we had blossoms the first year in 2023, instead of waiting 2-3 years for seeds to mature into flowering plants.
The UUSD property has been designated as a Certified Wildlife Habitat by the National Wildlife Federation and the UUSD Landscape Team endeavors to uphold the principles of this designation. The Wildflower Pollinator Garden also reinforces the UU 7th Principle, "Respect for the interdependent web of all existence of which we are a part."
The Landscape Committee is proud of their work on this Garden, with special thanks going to committee member and Master Gardener Maggie McLaughlin for the many hours she put into this project. We hope that the Garden will add beauty to our property and support pollinators and others for many years to come.
We encourage area gardeners to add some of these native plants to their own home gardens and also to think about creating similar gardens at other churches or agencies where suitable property is available.
Click here for a list of the plants we have in the wildflower garden and for their bloom time, color, height, spacing, soil, and soil moisture needs.
Pollinator Garden, August 2, 2023
For best viewing, click a photo to enlarge it, then follow the arrows to the next photo.
Preparing the Garden
Spring 2022
September 2022