Jun
18
Sun
What Holidays Do You Celebrate?
Jun 18 @ 10:00 am – 11:00 am
June 18, 2023, 10:00 a.m.
"What Holidays Do You Celebrate?"
Rev. Heather Rion Starr
What a great question! Not everyone celebrates the same holidays and hearing why certain holidays are particularly important to some people and families can be wonderfully engaging. Perhaps your family has chosen to celebrate Pride and/or Juneteenth, or intentionally chosen not to celebrate a major holiday in "the usual way." Or perhaps your family has made up a special holiday of your own that you love to tell others about! On this Sunday, join us in celebrating all the things we can.
UUSD is requiring that only vaccinated individuals (who are eligible to be vaccinated against COVID) attend in-person services.
Please stay home and enjoy our livestream if you have a fever, any other symptoms of illness, or if it's simply a better option for you.
Mask wearing is encouraged but not required.
Children and Youth Faith Exploration
The children and youth of our congregation are literally the future of our community. There are many questions in life that come at all stages, especially childhood. We seek to nurture spiritual and emotional growth with compassion and understanding.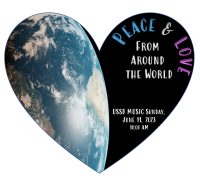 Share Peace & Love
This is our theme for UUSD's Music Sunday. Julie Keefer, Director of Music Ministries will lead the UUSD Choir. Together, they will share songs of peace and love from all over the world. Join us on Sunday, June 11, 2023 for a blessed time of music: the universal language of every nation!
Sharing Our Stories
Each of us at UUSD has a different story to tell about how we found a spiritual home here. A few of us are life-long UUs but most are not, having come from a variety of other religious backgrounds or from no particular place of faith. Whatever our journey, sharing the stories of the paths we took helps connect us to each other and to the shared journey we are now making.