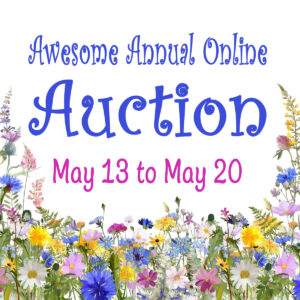 The 2023 "UUSD Awesome  Annual Auction" will take place online from May 13th at 10 A.M. until May 20th at 4 P.M.
Please join the fun and bid on our tangible items such as jewelry, hand-crafted items, housewares, new items, and nearly new treasures. If you are looking to get connected to our beloved community, our dinners and events are wonderful items to purchase at the auction. You may meet at members' homes, parks, or many other local areas to gather for food, games, or just relaxing and enjoying conversations with each other. Each auction event will provide the date, location, starting bid amount, and a description of what is offered.
Visit the Auction Catalog
The catalog for the UUSD Awesome Annual Auction is now available for your viewing!  Start shopping now at fundraiser.bid/uusd.
Set your social schedule for 2023/2024 with 36 amazing events/dinners. We have over 180 items for auction, including homemade soups, pies and cakes, gift cards to local restaurants, and even a one- week vacation to Williamsburg, VA for six persons.
Make your list and be ready to begin bidding this Saturday morning, May 13, starting at 10:00 a.m.
Sign in to bid
The public is invited to sign into the auction website at fundraiser.bid/uusd where they can bid, purchase, and pay for items online. Bidding online is simple and fun with our new user-friendly auction software. Shoppers can browse through our extensive auction catalog and click the picture of the item to see an enlargement.
Matching Gifts
Our Matching Gifts program allows everyone to help support the auction.  Pledging to match a percentage (%) of the auction's funds is a great way to boost the success of this important fundraiser. You can pledge to match any percentage (.025, .050, 1, or any other %). You can also cap your match at a specified sum. Here's how it works: If you agree to match .05% and the auction raises $20,000, your matching donation would be $100.00. You could also cap your match at a set amount.( i.e. 1% not to exceed $150.00)
A successful auction is critical for the financial health of UUSD. Last year Matching Gifts accounted for 12% of the total auction revenue. Whether you buy an item or not, adding a matching gift is a great way to share in the fun and success of our AWESOME ANNUAL AUCTION.
To participate in the Matching Gifts Program contact Carol Huckabee  at MatchingGifts@uussd.org.
Making Payments for Winning Bids — Saturday, May 20
Beginning at 4:00 p.m. on May 20, or 4:10 p.m. for extended bids, payments for winning bids must be made by credit card through your registration on the auction website. You will receive a reminder by email and/or text to prompt you to make your payment. Payments will not be accepted during pickup on Sunday, May 22. Credit card numbers will be deleted upon completion of your payment.
Pick up your items.
Shoppers can pick up purchased items on Sunday, May 21, from 12:00 p.m. – 2:00 p.m. at the home of member, Beth Law. UUSD members can find Beth's address in Breeze, the UUSD Directory. Non-members will be contacted to let them know they can pick up their items at church on a Sunday morning, or at another mutually convenient time.
Proceeds from this year's annual auction will support UUSD's mission to nurture spiritual growth, embrace diversity, work for justice, and strive for a loving world.Thank you to everyone for your support! If you have any questions, contact Gwen Johnson and Beth Law at Auction@uussd.org.