Pledge Campaign for the
2023–2024 Fiscal Year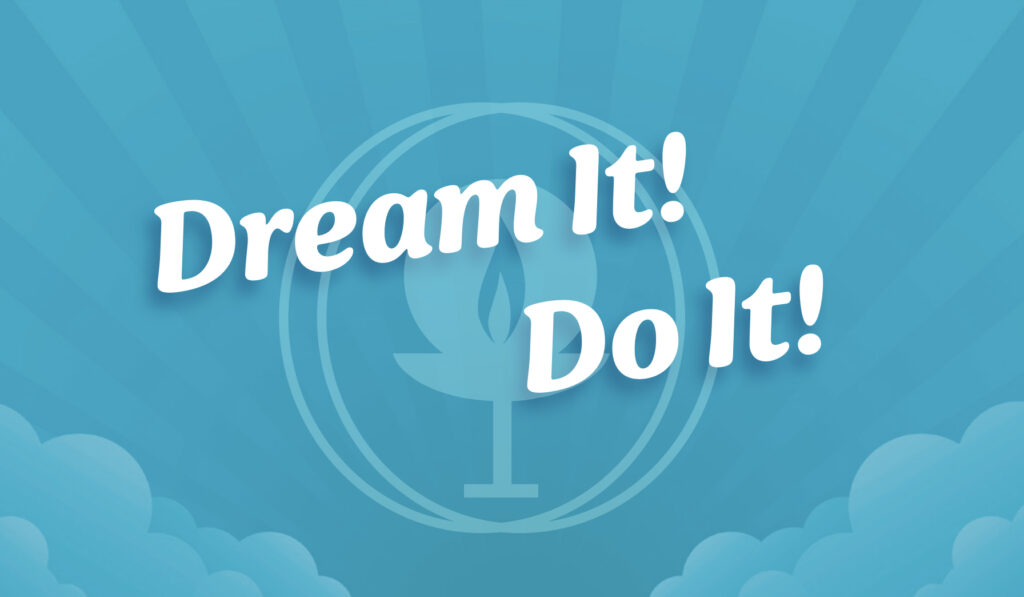 Pledging to support the ministry of our congregation is a spiritual statement about your values, your priorities, and your vision for our world. On a practical level, pledges represent over 87 percent of our annual budget. These financial commitments allow UUSD to make realistic spending plans and also make it possible to have this beloved community in our lives.
What Your Financial Support Provides
Spiritual leadership from our full-time minister
Inspiration from a music program guided by our Director of Music Ministries
Support and staff for our ministries, committees, and administrative functions
Mortgage payments
Utilities and insurance to keep our building operational
Supplies to support our building and our programs
Building and grounds maintenance
Dues paid to UUA groups that offer support and training
The below chart depicts the percentage of total expenses associated with each of seven broad categories. It is derived from the Phase 1 operating budget approved by the Board on February 14, 2023.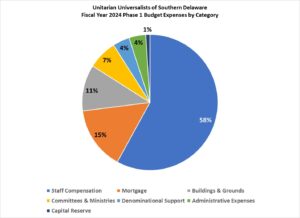 Pledging
All of us have our own unique circumstances to consider in making our financial commitment to UUSD. Our pledge campaign brochure and the generosity guide are tools to help you determine what your support may be. You may also speak to any member of the Pledge Campaign Team to discuss your personal pledge decision.
Pledge Form
Your pledge information is confidential. Only the Co-Finance Officer (Kent Sprunger) and the Pledge Team member designated to receive pledges (Marj Shannon) will know the amount you pledge.
You can submit your completed pledge form in many ways:
Complete an online form, which will be automatically delivered to Marj.
Print and complete a paper form, scan it, and email it to Marj at pledge@uussd.org.
Print and complete a paper form and mail it to UUSD, marking the envelope: "Attn: Marj Shannon" and "Private."
The 2023–2024 Pledge Campaign Team thanks you for your financial support.
— Bobbe Baggio, Carol Huckabee, Ron Schaeffer (Chair), Marj Shannon, Kent Sprunger, and Rev. Heather Rion Starr